2020 MLB Preview and Predictions – American League East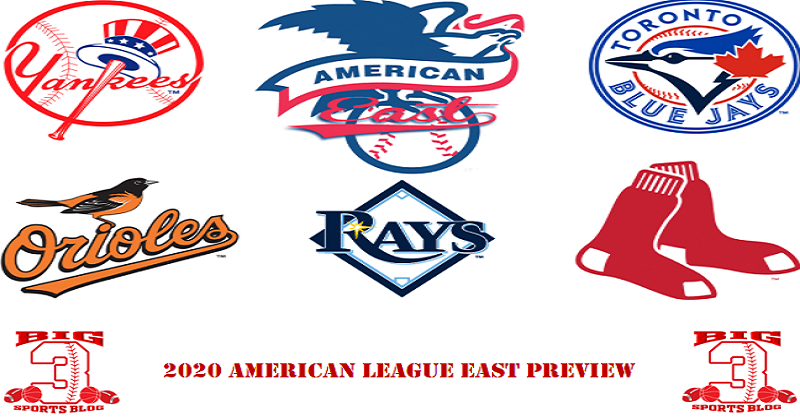 In 2019, this Division featured the 2nd best team in the American League, and the 2nd worst team in the American League.  The outlook for 2020 looks to be about the same, top to bottom.  As much movement as we are used to seeing (mostly the Yankees and Red Sox), it was actually a relatively quiet offseason for this Division.  That is if you're able to ignore Gerrit Cole and Mookie Betts of course.  Still, quiet considering the norm.  So what does this upcoming season look like for each team?  Let's have a look.
Baltimore Orioles
Quick, name 1 current Baltimore Oriole.  You can't?  I'll help you out…Chris Davis (who has been under the Mendoza Line the last 2 seasons).  Outside of him, this is a very young, nameless team.  They finished in dead last in 2019, and are coming back with basically the exact same team.  I'm going to guess how 2020 will look.
Toronto Blue Jays
The Blue Jays finished 4th in the Division last season, but did make some upgrades for the upcoming season.  Their only notable loss was Justin Smoak (22 HRs), but they were able to sign Hyun-Jin Ryu (2019 NL ERA leader), Tanner Roark, and Travis Shaw.  With the youngest offensive team in baseball, this team has a chance to be good in a couple years.  Playoffs this year?  Probably not.  But bright future for sure.  Tidbit – 3 of their projected starting infielders are sons of former MLBers – Vladimir Guerrero, Jr. (Vladimir), Cavan Biggio (Craig), and Bo Bichette (Dante).  Random.
Tampa Bay Rays
In 2019, the Rays finished 2nd in the East, captured a Wild Card spot, won the Wild Card Game, and forced a Game 5 against the Astros in the ALDS…with basically a no-name roster.  This offseason, they lost Travis D'Arnaud and Avisail Garcia to free agency, and signed roughly 0 free agents.  That said, this team has a solid rotation, featuring Blake Snell, Tyler Glasnow, and Charlie Morton.  If they can pitch to their potential, and get production on offense from someone other than Austin Meadows, they are capable of making another Wild Card run.  Being in contention in September…that's kind of their thing.
Boston Red Sox
After winning the World Series in 2018, the Red Sox took a major step back last season, finishing 19 games behind the Yankees in the Division.  Offensively, they were just as good as the previous season, finishing 4th in MLB in runs scored, but their pitching struggled, notably Chris Sale, David Price, and Ricky Porcello (combined 27-28 record).  Price and Porcello are now gone, so the rotation will be led by Sale, Eduardo Rodriguez (19-6 last season), and journeyman Nathan Eovaldi.  Despite losing MVP Mookie Betts to the Dodgers, their lineup is still loaded (J.D. Martinez, Xander Bogaerts, Rafael Devers to name a few).  If their pitching can improve on last year's performance, they have the offense to make a Playoff run.  But that is a huge if.
New York Yankees
On paper, the Yankees have to be the favorite in the AL, let alone the AL East.  Last season they made it to the ALCS, where they were cheated by, I mean beaten by the Astros in 6 games.  And in theory, they are even better now.  They did lose Didi Gregorius, Edwin Encarnacion, and Dellin Betances to free agency, but were able to land prized starter Gerrit Cole.  He rounds out a rotation that includes Cole, Masahiro Tanaka, J.A. Happ, and James Paxton (out until June), and they also have star reliever Aroldis Chapman to close games out.  Offensively, they have a lineup that boasts sluggers Aaron Judge, Gary Sanchez, Gleyber Torres, Brett Gardner, and DJ LeMahieu (all 27+ HRs)…oh, and Giancarlo Stanton.  Like I said, on paper, the best team in the AL.  If they stay healthy, they should win more than the 103 games they won last season.
Aside from the bottom feeders, there are 3 teams that could realistically make a run at the Division title.  But the Yankees roster is simply too good and too deep.  Barring major injury problems, I see them running away with the Division.  American League East Prediction – New York Yankees
Now, tell me what you think!!!
Like this article?  Share it on Twitter or Facebook.  Like us?  Follow us on Twitter (@big3sportsblog1) or like our Facebook page (@big3sportsblog).  Not a fan?  Tell us why!